The Knowledge Base is a curated collection of articles, tutorials, and troubleshooting posts.
It is the result of the many consultations with book supporters, support customers, resellers, and users.
The book was a good start but after several iterations of the new draft, the result was always a split opinion. It became clear that a static book cannot be everything for everyone.
As so was born the idea of an evergreen book. This Knowledge Base is the result of that idea using the tools available by the Discourse project. The Knowledge Base replaces and expands upon the book as it also contains material from internal documents, support tickets, deployments, and other sources.
The goal is to have a one stop location for premium material regarding Mayan EDMS. Whether it is learning about a feature, figuring out the cause of an error message, or trying out a tutorial to understand how to use a feature alone or in combination with another for a complete setup.
It is a simple and economic way to tap into the knowledge accumulated over the span of many years by the development team.
The link to create the subscription can be found in the header campaign and in the top menu.

The link name "Docs" is the link for the Knowledge Base.
Articles, tutorials, and troubleshooting posts are available and have their own dedicated menu and search options.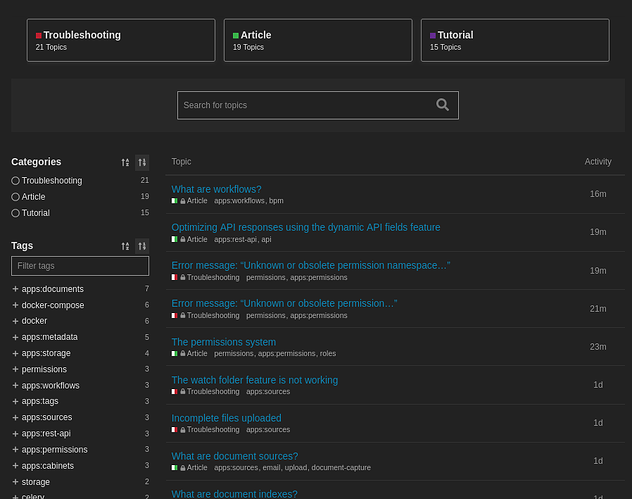 Content is added daily. Click the following link to get started: Mayan EDMS community forum
Everyone that purchased the book should have received discount coupon from Sellfy.com.